AFFILIATED TO CENTRAL BOARD OF SECONDARY EDUCATION: NEW DELHI
AFFILIATION PERIOD: 2019 -2024
Principal's Welcome
Welcome to the Indian International School, Benin website. The purpose of this webpage is to provide parents, students, and our school community with easy access to a wealth of information on our programs, policies and activities.
Indian International School is a great place to teach and learn! Our teachers are committed to a high quality learning experience focused on the individual needs of each child. We are striving to be creative and innovative in our instructions to engage students in their learning through a variety of activities, applications of technology, and 21st Century skills.
Upcoming
EVENT DESCRIPTION Students of all classes will participate in inter-class debate competitions.
Read More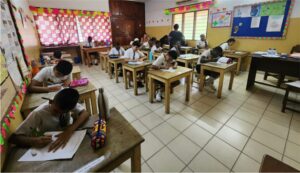 Upcoming
Students of all classes will start their 2nd unit test for the first term after weeks of intensive teaching and studying. 
Read More
Outstanding Alumni
Your experience does not stop when you graduate.